Management and Relief In Dublin, Ireland
Juvenile idiopathic arthritis is a type of arthritis that affects children. It can be very painful and make it difficult for kids to do everyday activities.
Here at our clinic, we offer treatments to help manage and relieve juvenile idiopathic arthritis. Our physical therapy and chiropractic services can help improve your child's quality of life.
Contact us today to learn more about our treatments.
What Causes Juvenile Idiopathic Arthritis?
The exact cause of juvenile idiopathic arthritis is unknown. In modern medicine, the term 'idiopathic' is used to describe a disease or condition of unknown origin. The term comes from Greek, and means "one's own", and pathos means "suffering".
The Symptoms Of Juvenile Idiopathic Arthritis
Symptoms of juvenile idiopathic arthritis can vary from child to child, but some common symptoms include joint pain, swelling, stiffness, and redness, and some children also experience stomach pain.
As a result of pain and stiffness, secondary symptoms such as general fatigue, muscle weakness, and limitations of daily life are also common.
Symptoms come and go in episodes of flare-ups and periods of remission. It is believed, like many other forms of arthritis, to be the result of both environmental (external) and genetic (internal) factors.
It can be hard as a parent to see your child in pain, so we try to give parents management strategies to reduce pain and discomfort without medication or injections.
We Help Juvenile Idiopathic Arthritis In Dublin, Ireland
Our philosophy is based on respect for the intrinsic nature and sophistication of the body, and we work with it, not against it to achieve the best outcomes for our clients.
We integrate understandings, knowledge, and skill from both chiropractic and physical therapy and tailor our treatments to the individual needs of each client.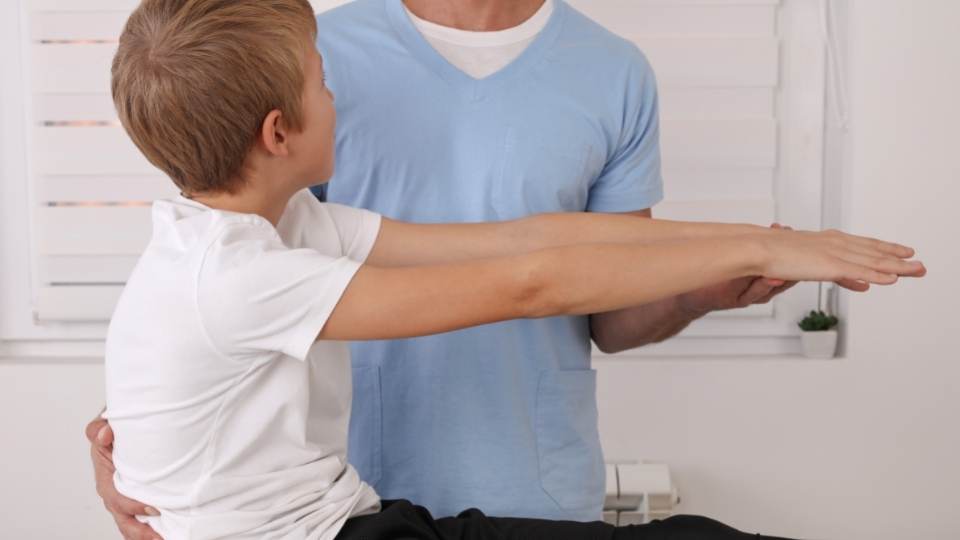 Our Team At Dublin Physical & Chiropractic
Our team of experts specializes in orthopedic and neurological conditions, including juvenile idiopathic arthritis. We offer a range of evidence-based innovative treatment options that are tailored to you.
You can trust that our treatment options are effective and will help you get back to your life as quickly as possible. All of our treatments are drug-free and non-surgical – so you can feel confident in the care you're receiving.
How We Help Juvenile Idiopathic Arthritis?
We use a range of therapies designed to reduce pain, relieve tension and improve mobility and flexibility, regenerate damaged cells, reduce inflammation, and mobilize stiff joints.
We focus on reducing symptoms, but are the main objective is the find the intrinsic cause of the symptoms, which in most cases is down to an imbalance, in any one or more of the body's systems.
With all kinds of arthritis, including juvenile idiopathic arthritis, there are multiple systems involved, the immune system, the musculoskeletal, the endocrine system, the nervous system – and all our important to look at to facilitate and restore normal function.
We use a combination of physical therapy-based exercise therapy (from play) and hands-on therapy, and chiropractic techniques to relieve pain, stiffness, and swelling.
Physical Therapy For Juvenile Idiopathic Arthritis
Our physical therapists use a combination of hands-on soft tissue techniques and exercise therapy to relieve juvenile idiopathic arthritis.
The physical therapy treatment options we use include massage, passive stretching, joint movements, low-level laser therapy, and exercise therapy to reduce pain, swelling, stiffness, and muscle weakness.
Chiropractic Care For Juvenile Idiopathic Arthritis
Our chiropractor has over 30 years of experience and tailors his treatments to each client.
Dr. Lawerence Woods focuses is on releasing stiff joints in the spine to allow normal and optimal nerve conduction to and from the spinal cord, the superhighway of the body. This promotes healing and allows freedom of movement.
Dr. Lawerence Woods also uses core strengthening, which supports the body in everything it does. A strong core means your body has a stable foundation from which all other movements function.
Intrinsic Core Strengthening For Juvenile Idiopathic Arthritis
The core is the center of the body, if the core is weak so is everything else, all other muscles are fatigued from working overtime. That is why we strengthen the core at Dublin Physical & Chiropractic.
If you are interested in learning more about the intrinsic core and how to strengthen it check out our page all about it.
Laser Therapy For Juvenile Idiopathic Arthritis
Laser therapy is a pain-free non-invasive form of pain relief, it reduces inflammation and swelling.
Laser therapy works by emitting light ions or photons into the tissue which increases cellular activity and blood flow to that area for a speedy recovery and cellular regeneration.
Many clients find it relaxing and enjoy the experience, and the find warmth soothing.
Visit us in Dun Laoghaire, Dublin Ireland
Our physical therapy & other services extend throughout Dun Laoghaire-Rathdown including Blackrock, Cherrywood, Stillorgan, Rathfarnham, Shankill, Cabinteely, Foxrock, Clonskeagh, and Killiney.
Our office is located just outside of the center of Dun Laoghaire and is between Deansgrange and Monkstown. You can find our building entrance on Lower Mounttown Road, across from Woodland Park. We are a 30-second walk from Dublin Bus stop 2031 which is outside of Mccormick's Pub.
Book An Appointment Today
Are you looking for a physicla therapist in Dublin, Ireland?
We are the best choice in orthopedic care. Our team of highly trained professionals has over 30 years of combined experience and we use cutting-edge technology to provide our patients with the highest quality care possible. You can feel confident that you're in good hands when you choose us!
We offer free parking, so there's no need to worry about finding a spot or paying for one. If you have any questions, please contact us today! We look forward to hearing from you soon.
Click here now to book an appointment with Dublin Physical & Chiropractic. 
References 
[1] https://rarediseases.info.nih.gov/diseases/3067/juvenile-idiopathic-arthritis