Jaw Pain Relief | TMJ Pain, Symptoms & Treatment | Dublin, Ireland 
If you're looking for TMJ treatment in Dublin, you've come to the right place!
We are a clinic in Dublin, Ireland that offers physical therapy and chiropractic care for TMJ pain. We give you the opportunity to get back on your feet with treatments that include the very best physical therapy and chiropractic care. 
TMJ pain is an extremely common problem that plagues people of all ages, and affects women more than men [1] .TMJ pain can be caused by a number of different things. Research has shown that TMJ can be caused by a jaw injury or facial trauma [2] , TMJ (temporomandibular joint) dysfunction, cervical spine or neck and shoulder muscular dysfunction [1] or jaw positioning/posture.
Our blog explores the causes of TMJ pain, the best way to tackle it for good for long-term resolution of bothersome aches and pains, so that you can get back to living life without discomfort.
What Is Temporomandibular Disorder? 
The Mayo Clinic have defined temporomandibular disorder as a disorder that can cause pain around the jaw and the muscles of the jaw [3] and the cause can be genetics, arthritis or injury. 
What Causes Issues In And Around The Jaw Joint?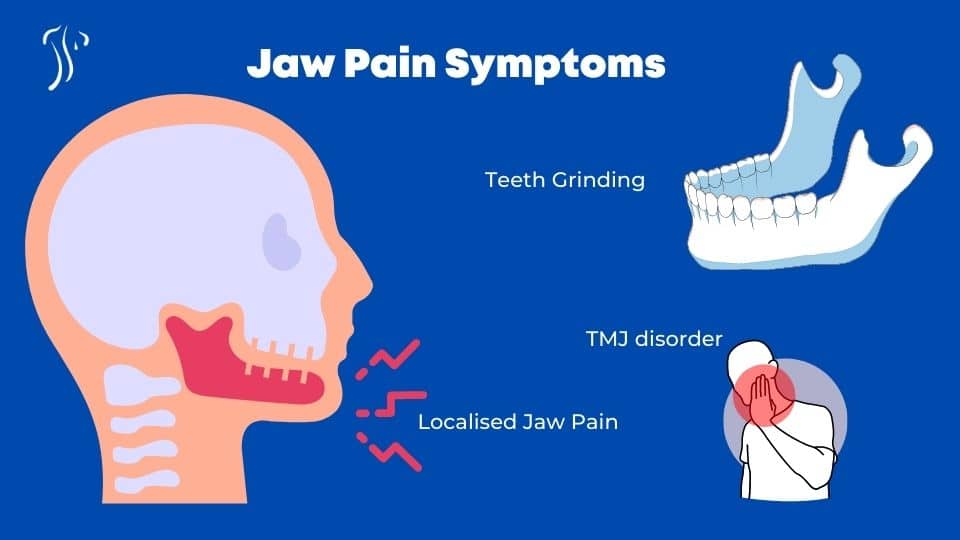 According to the NCBI (The National Centre Biotechnology Information) jaw pain is multi-factorial [4]. Meaning there are multiple contributing factors to the onset of jaw ache and clicking. The NCBI also reports a prevalence rate for TMJ disorders as 60-70%, however, only 5-12% of symptoms are reported and require TMJ treatment or therapy. Researchers believe TMJ or TMD's are caused by some of the following causes:
Degenerative

changes within the jaw joint involving the disc or condyle-disc complex.

Disc

dislocation or displacement

.

Arthritis

– changes within the jaw joint effecting the smooth articular surfaces, or cartilage.

An

injury or trauma

to the jaw joint or TMJ.

Loss of lubrication within the jaw joint or TMJ,

leading to symptoms.

An

increase in fibrous or non-elastic tissue

surrounding the jaw joint or TMJ, leading to symptoms.

Inflammation

of the TMJ, which often causing constant TMJ pain.

Myofascial dysfunction

, meaning tension or fatigue of the

muscles around the jaw involved in chewing/mastication. 
Is It Your Teeth? 
Sometimes it is more of a dental problem. The following risk factors are associated with the development of muscular related TMJ pain:
Stress.

Bruxism or teeth grinding.

Abnormal posture.

Depression.

Anxiety.

Teeth Problems
Do you suffer from annoying aches and pains around the jaw? If so, we can help. We offer a range of evidence-based innovative care options such as – spinal decompression, chiropractic spinal adjustments, intrinsic core strengthening, laser therapy, and physical therapy for treating jaw pain effectively. Our team has helped thousands of people just like you get back to their normal lives with minimal or no medication at all.
For more information about our Treatments & Relief or to book your consultation, call us at (01) 254 4800 or visit our contact page.
Getting Back To Normal Drug-Free 
You'll be able to eat whatever you want without worrying about the discomfort that comes along with it. And best of all – our therapies are drug-free and non-surgical! They're tailored specifically to your needs so there is no need for invasive procedures or surgery.
It's time to take control of your life again! Let us show you how we can make this happen today by giving us a call at (01) 254 4800 or clicking on this link right now!
Visit us in Dun Laoghaire, Dublin Ireland
Our physical therapy & other services extend throughout Dun Laoghaire-Rathdown including Blackrock, Cherrywood, Stillorgan, Rathfarnham, Shankill, Cabinteely, Foxrock, Clonskeagh, and Killiney.
Our office is located just outside of the center of Dun Laoghaire and is between Deansgrange and Monkstown. You can find our building entrance on Lower Mounttown Road, across from Woodland Park. We are a 30-second walk from Dublin Bus stop 2031 which is outside of Mccormick's Pub.
How We Treat The Jaw At Our Clinic
With the high prevalence of  TMJ disorders, it is a mission within healthcare to find effective therapies for this debilitating condition, without the need for oral surgery or medication dependency, no one wants to take medicine every four hours, so let us explore the drug-free alternatives.  
At Dublin Chiropractic & Physical therapy, our goal is always the same – provide people with jaw pain in Dublin and the surrounding areas with relief of their discomfort so that they can get on living life again!
We offer a multifaceted approach, with the use of a  wide range of therapy options including physical therapy and chiropractic care, designed to relieve symptoms and get you back to doing what you love fast pain-free.
Physical Therapy Care
Physical therapy is one of the best methods for treating a wide range of conditions. It involves a series of exercises to help your body heal on its own, while also relieving pain and preventing it from becoming chronic or severe.
By using exercise therapy, massage therapy, joint mobilisations, and health promotion [5] you can ensure that all elements are addressed and that your jaw feels better than ever before!
Other topics areas that your physical therapy might incorporate is stress management and body awareness. As stress is a huge contributor to many painful conditions including TMJ pain. And gaining awareness of what mediates stress in your daily life can help you manage stress more effectively can reduce pain and the need for behaviours like teeth grinding.
Chiropractic Care
Getting jaw treatment from Dublin Chiropractic & Physical therapy is another way to get jaw discomfort relief quickly and easily. We offer chiropractic adjustments, intrinsic core strengthening, and spinal decompression, designed to give fast and long-term results. Research has shown that chiropractic care can reduce TMJ pain and dysfunction [6]. 
Dr. Lawrence Woods has years of experience treating jaw pain. He will pinpoint exactly where the problem areas are in your jaw and neck, truly tackling the core cause of your pain.
Spinal Decompression 
Researchers from the National Library of Medicine [7] reported a relationship between pain around the jaw or cranial-facial pain with neck pain have, due to the close anatomical connection.
Therefore we also often include non-surgical spinal decompression of the neck into our treatment of TMJ pain.
Non-surgical spinal decompression relieves pain and dysfunction by releasing and relieving pressure on the spinal joints and discs, promoting spinal health by re-hydrating the spinal joints and increasing the influx of oxygen-rich blood and nutrients.
Non-surgical spinal decompression is performed in a lying position, so you can just lie back and relax. Many people find the gradual, gentle pull very relaxing. This makes it an ideal choice for those who are maybe a little nervous about getting jaw treatment.
Laser Therapy 
Along with physical therapy, chiropractic care, and non-surgical spinal decompression for treating TMJ pain, our team also offers Class IV laser therapy, a highly effective, non-invasion therapy that uses high-powered light therapy to stimulate metabolic activity. A study published in 2020 by the National Library of Medicine [8] found laser therapy to "be an effective short-term therapeutic modality for myofascial TMD pain (TMJ pain)" and stated that there are no side effects.
The light particles are absorbed by the certain cells, called chromophores, of the targeted area – causing an increase in blood-flow and cellular ATP production. This increase in blood-flow and ATP production leads to cellular regeneration, improving muscular function and a reduction in pain and inflammation [9]. Laser therapy has also been found to improve tissue resistance to stress.
Massage Therapy
Our team includes a certified member of the Irish Massage Therapists Association who can provide jaw massages. These massages are designed to provide targeted relief for the jaw muscles.
We are Ready to Help You Get Your Health Back On Track
We here at Dublin Chiropractic & Physical therapy are committed to helping people with their physical goals and health needs. If you have any questions about how we can help you with jaw pain symptoms, treatment or relief then please call us at 01 254 4800 today! We look forward to hearing from you soon.
Book Your Appointment Today 
At Dublin Chiropractic and Physical therapy, our team of highly trained professionals is committed to helping you achieve your health and wellness goals, and we're passionate about what we do. We offer free parking, advanced technology, and innovative treatments that will help you feel better fast!
You can get started today by requesting an appointment online or calling us at (01) 254 4800. No matter how busy life gets, it's important to take care of yourself so don't wait another day – let us help you live without symptoms & pain-free!
Call now on (01) 254 4800 or book an appointment online today!
References 
[1] Sohail, Maria & Ashraf, Hafiza & Shahzad, Zaitoon & Anjum, Aqsa. (2021). Frequency of temporomandibular dysfunction, pain intensity and joint's level of disability among patients with cervical pain under physical therapy treatment in Lahore, Pakistan. Rawal Medical Journal. 46. 114-117. 
[2] Iodice G, Cimino R, Vollaro S, Lobbezoo F, Michelotti A. Prevalence of temporomandibular disorder pain, jaw noises and oral behaviours in an adult Italian population sample. J Oral Rehabil. 2019 Aug;46(8):691-698. doi: 10.1111/joor.12803. Epub 2019 May 7. PMID: 30993737. 
[3] https://www.mayoclinic.org/diseases-conditions/tmj/symptoms-causes/syc-20350941
[4] Maini K, Dua A. Temporomandibular Syndrome. [Updated 2022 Feb 4]. In: StatPearls [Internet]. Treasure Island (FL): StatPearls Publishing; 2022 Jan-. Available from: https://www.ncbi.nlm.nih.gov/books/NBK551612/
[5] Byra J, Kulesa-Mrowiecka M, Pihut M. Physiotherapy in hypomobility of temporomandibular joints. Folia Med Cracov. 2020 Sep 28;60(2):123-134. PMID: 33252600.
[6] Pavia S, Fischer R, Roy R. Chiropractic Treatment of Temporomandibular Dysfunction: A Retrospective Case Series. J Chiropr Med. 2015;14(4):279-284. doi:10.1016/j.jcm.2015.08.005 
[7] Oleksy Ł, Kielnar R, Mika A, et al. Impact of Cervical Spine Rehabilitation on Temporomandibular Joint Functioning in Patients with Idiopathic Neck Pain. Biomed Res Int. 2021;2021:6886373. Published 2021 Oct 7. doi:10.1155/2021/6886373
[8] Nadershah M, Abdel-Alim HM, Bayoumi AM, Jan AM, Elatrouni A, Jadu FM. Photobiomodulation Therapy for Myofascial Pain in Temporomandibular Joint Dysfunction: A Double-Blinded Randomized Clinical Trial. J Maxillofac Oral Surg. 2020 Mar;19(1):93-97. doi: 10.1007/s12663-019-01222-z. Epub 2019 Apr 2. PMID: 31988570; PMCID: PMC6954917.
[9] The Molecular Mechanisms of Action of Photobiomodulation Against Neurodegenerative Diseases: A Systematic Review