Since physio is a specialty area, it's often difficult to know what physios do. In this blog post, we'll take the question "can physio help sciatica?" and give you an answer that your family members will understand. We all want to live pain-free lives, so if physio can help relieve pain in the sciatica, then it's worth exploring!
This is a blog post about how physio can help sciatica, both in the short-term, for relief, and long-term to promote a long and healthy life.
Can A Physio Help Sciatica?
Physio can help sciatica. People ask me this question a lot, and the physio training I had has allowed me to answer in an informed way that your family members will understand: physios are specialists who know how to treat pain and make it go away for good. This blog post is going to explore what physios do and how physio can help sciatica.
How Can Physio Help Sciatica?
Physios are trained to treat pain, and there's no better example of this than in the area of low back pain (LBP). LBP is one of the most common reasons people seek physio treatment, and it affects 80% of people at some point in their lives. If physio can help LBP, then physio has the potential to relieve sciatica pain too. 
Physios are specialists who know how to treat your back pain so you can live a life free of any limitations caused by it. We'll explore the causes and treatments for lower back pain more in this physio blog post.
Sciatica is a type of nerve pain, sometimes referred to as radicular pain by physios and other medical professionals, that occurs because the sciatic nerve, which runs from your pelvis down each leg to below your foot, gets irritated due to pressure or inflammation in its surrounding structures (e.g., muscles, tendons), and it results in symptoms like numbness, tingling, and pain in the leg.
What To Expect During Your First Physio Session 
You might be nervous attending physio for the first time, or maybe you had a negative experience with a physio in the past. So, let's ease those nerves!
Client History 
The very first thing your physio will do at the initial session or consultation, take your history. The purpose of this is to understand the person in front of them and how symptoms may have started, so they can have a few ideas or hypotheses to test during the assessment.
You don't have to be nervous about this initial conversation, it is not an interview or interrogation, just talk about what has been going on for you leading up to seeing the physio. The more you talk the better, the physio will only ask a few open questions and some follow-up questions.
Physio Assessment 
The purpose of the physio assessment is to determine what structures could be causing the sciatica symptoms. The physio will assess body mechanics and biomechanics, posture, movement patterns for example – this is all to determine what structure(s) may have been compromised or injured.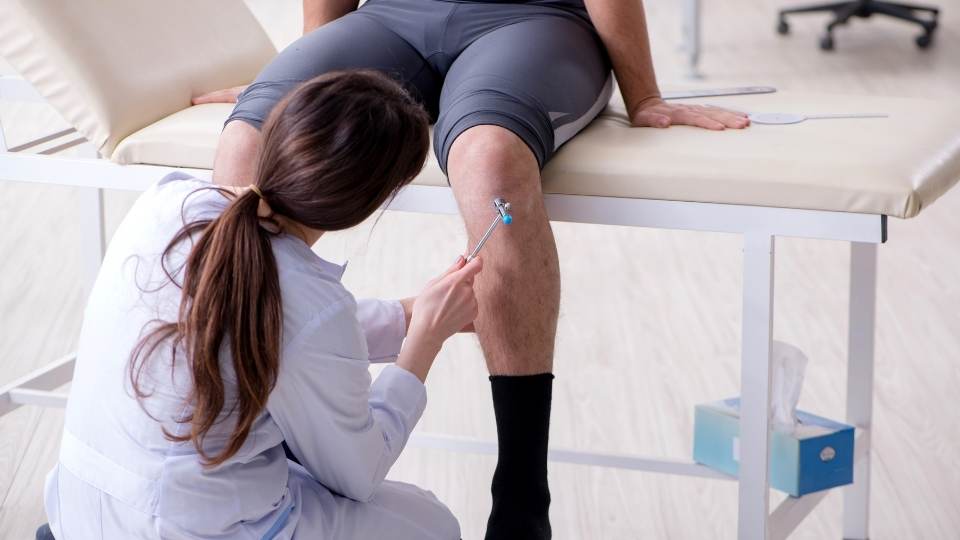 If you are experiencing sciatica right now, it's likely your physio assessment will include a neurodynamic assessment for sciatica.
Neurodynamic Testing For Sciatica Symptoms
The physio will test your nervous system by checking the range of motion in your joints, mobility, strength, reflexes, and coordination between different muscles to see how they are working together or if there is an imbalance with one muscle group over another. If these motor control patterns are altered (i.e., you have faulty movement strategies) this may be the cause of your sciatica symptoms.
However, it usually comes down to lifestyle habits and behaviors that could be modified to help treat and prevent sciatica.
What To Expect After Your First Physio Session 
After physio, you should start to feel some relief. It may not be the complete resolution of your sciatica symptoms. It may take physio treatment a few weeks to months to feel back to normal.
Especially, with nerve-related conditions, as a physio, I tell my clients "we will follow the timeline of the nerve, and the timeline for your body, and that is intrinsic to everyone" It is important that you do your part by following through with any prescriptions or exercises given to help reduce sciatica symptoms.
The first few sessions will to designed to reduce pain and discomfort, give you some respite, and enable you to sleep well and promote recovery. And after that, the goal will be to regain strength and resilience.
It is very normal to feel pain after the first few physio sessions because your body is adapting and adjusting.
Physio Treatment 
After the client's history and assessment, your physio will go through the findings of the assessment, and how to improve any limitations they found. They will then go through the treatment options with you, and start treatment.
Most physios will use a combination of hands-on treatment, manual therapy (e.g., massage), and exercise or other activities that may help to reduce sciatica symptoms for good. Some physios also use laser therapy and spinal decompression & joint traction to relieve pain and pressure on the nerves of the lower back that may be the cause of sciatica.
Conclusion
Physio can help sciatica with a number of different therapies. The key is to be patient and consilient, ask questions, and be as involved in your treatment as the physiotherapist is and more. I hope you found this blog helpful, and thank you for taking the time to read it.
References
[1] https://www.sciencedirect.com/science/article/abs/pii/S1521694209001417?via%3Dihub
[2] https://www.sciencedirect.com/science/article/abs/pii/S1521694209001259